Contenu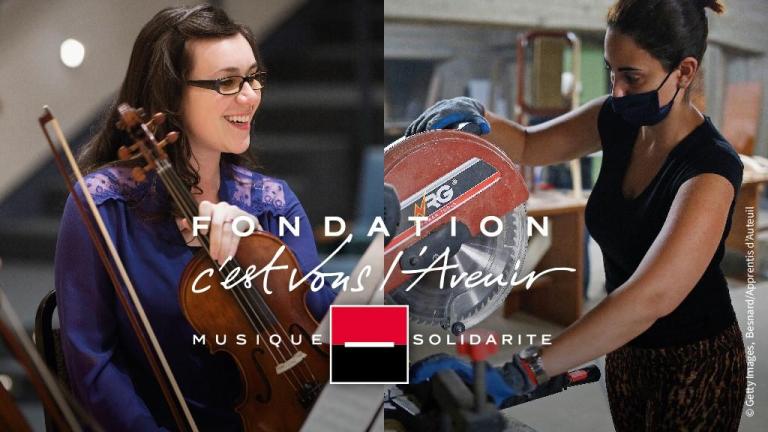 Societe Generale The Future is You Foundation aims to provide even greater support to young people in building their future. To achieve this, it is combining the Group's solidarity and music sponsorship, with 15 and 30 years of expertise in these fields respectively and a budget of €7 million - placing it in the top 10 of CAC40 foundations.
Bringing the Group's two sponsorship areas together in the same structure will make it possible to create more bridges between projects, to be even more effective and innovative in the way we support young beneficiaries. The Foundation will capitalize on this dual expertise to focus on supporting educational projects, particularly through music and sport - two areas in which we have acquired legitimacy as a sponsor and long-term partner; and to support young people's first steps towards employment, particularly by giving young people in social difficulty the keys to employability to help them in their professional integration process; to disseminate and promote classical music in France. As a partner of the most prestigious training courses, the Foundation supports young musicians in their professional development through grants and instrument loans. It also supports numerous orchestras and ensembles with the aim of opening up the musical heritage to new audiences and promoting a living culture.
"In the wake of the pandemic, and as we embark on a world of profound transformations, focusing on young people is also a message of hope and optimism," stressed Frédéric Oudéa, CEO of Societe Generale and Chairman of the Foundation, in Le Figaro a French newspaper (in French only). This message is also conveyed by our staff, who regularly get involved through skills sponsorship or solidarity events such as the Move for Youth challenge, which, thanks to their commitment, raised 1 million euros to support the work of more than 40 local and international associations working in the field for young people.
The new Foundation was officially launched at a concert bringing together the Music and Solidarity partners.
Follow its news on twitter @Fondation_SG
Launch of Societe Generale The future is you foundation to be discovered in video (in French only)