Contenu
We believe in every person's potential
Societe Generale The Future is You Foundation, which oversees all of Societe Generale's sponsorship, aims to provide support from within a collective to young people who are getting started, as well as all those who we can help flourish in their personal and professional lives. We believe in each person's potential and want to help everyone fulfil theirs, starting with those who inherently embody the future – young people.
Acting as a responsible bank isn't just about the financial aspect of our business: making a commitment to society, in which we are key players, is an integral part of our mission.

Frédéric Oudéa, Chief Executive Officer of Societe Generale and President of The Future Is You Foundation
Launch of Societe Generale The future is you foundation to be discovered in video (in French only)
Solidarity and Music
By bringing solidarity and music within a single foundation and connecting the two, Societe Generale is giving new impetus to its sponsorship commitments and mobilising its employees to contribute positively, alongside its charity and music partners, to a better, sustainable future.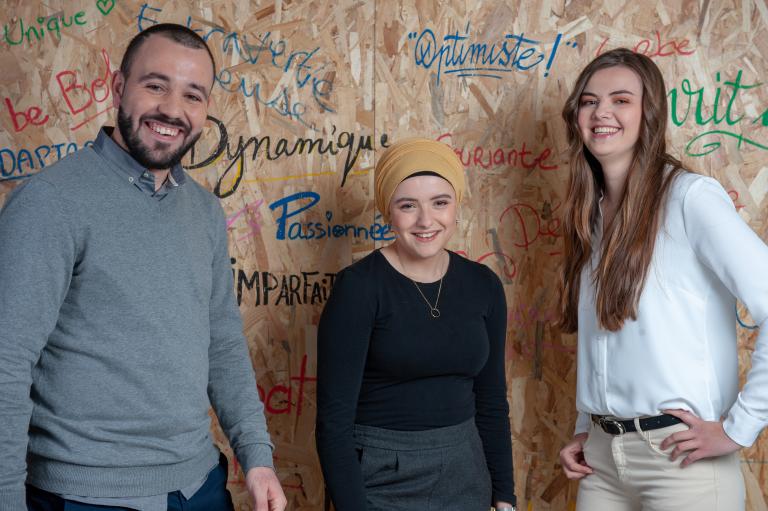 Credits : Nos Quartiers ont du Talent
Young people: a priority audience
For many young people, the pandemic increases the risk of dropping out, compromises their education, training and employment prospects, and affects their well-being and self-confidence. Societe Generale The Future is You Foundation's efforts are primarily directed at these individuals.
We partner with associations that support them in their journey, by allowing them to access worksites or companies that help the unemployed rejoin the workforce, to carry out an entrepreneurial project and to acquire the know-how and soft skills that will lower the barriers to entering the workforce. We also support projects providing education through music and sport – two areas in which Societe Generale has acquired legitimacy as a patron and long-term partner.
Young people have always been front and centre in our sponsorship initiatives and they will be even more central to the actions of Societe Generale The Future is You Foundation.

Caroline Guillaumin, Human Resources and Communications Director at Societe Generale, Foundation Director
General Operation
The Board of Directors
The Board of Directors of Societe Generale The Future Is You Foundation defines the overall strategy of the Foundation, reviews applications from major partners and decides on all support. It has eleven directors: six representatives of the Societe Generale group, and five qualified individuals who have agreed to put their expertise at the service of the Foundation.
Internal Directors :
Frédéric OUDEA, Chief Executive Officer
Isabelle DELOEIL GERAUD, Regional Delegate Grand Est, Bourgogne et Franche-Comté
Frédéric de FONDAUMIERE, Head of Enterprise Operations, elected employee representatives
Caroline GUILLAUMIN, Head of Human Resources and Head of Communication
Cathia LAWSON HALL, Head of Client Relations and Investment Bank for Africa
Alexandre MAYMAT, Head of Global Transaction and Payment Services
External Directors :
Laurent BAYLE
Thierry DUSAUTOIR, Former professional international rugby player
Charles-Edouard VINCENT, Founder of Lulu Dans Ma Rue and Emmaüs Défi
Sidonie MERIEUX, Founder and President of HeR value
Caroline SONRIER, Executive and Artistic Director, Opéra de Lille


Selection committees - Music Committee, Education & Professional Integration Committee, Africa Committee
The selection committees review applications and submit support proposals to the Board of Directors to implement the Foundation's strategy. The committees are made up of representatives of the Societe Generale group and qualified individuals who are experts in our areas of involvement.
Music Committee
Laurent BAYLE
Caroline SONRIER, Executive and Artistic Director, Opéra de Lille
Vanessa WAGNER, Pianist
Hafida GUENFOUD-DUVAL,​ Executive Officer​ of the Foundation
Ulrich MOHRLE,​ Deputy Officer of the Foundation - Music
Eric PILAVIAN, Committed employee, Playing For Philharmonie project
Education & Professional Integration Committee
Dorothée CORBIER, Independent Director, Agence ASSEMBLE, patronage consulting agency, citizen commitment
Marc GERMANANGUE, CEO of the Moteur! project
Camille MARC, CEO of Entreprendre&+
Sidonie MERIEUX,​ CEO, HeR Value​
Hafida GUENFOUD-DUVAL, Executive Officer of the Foundation
Marc HAROUNYAN, Employee and foundation ambassador in Lyon​
Mathilde LEROSIER,​ Deputy Officer of the Foundation - Solidarity
Hacina PY, Group Chief Sustainability Officer
Croisine MARTIN ROLAND, Philanthropy Advisor, Société Générale Private Banking, Executive Officer 29 Haussmann Foundation​
Africa Committee
Hélène GUEHENNEUC, Director of Tiers-lieu Mahna, Burkina Faso​
Stéphanie SCHMIDT, Director of Partnerships / Africa, Ashoka​​
Arthur BRIGHT, Director of the Africa, Mediterranean and Overseas Business Unit
Sophie DIAKITE, Sponsorship representative in Senegal and committed employee​
Hafida GUENFOUD-DUVAL, Executive Officer of the Foundation
Mathilde LEROSIER,​ Deputy Officer of the Foundation - Solidarity​
Zdenek METELAK,​ CEO SG Madagascar​​