Contenu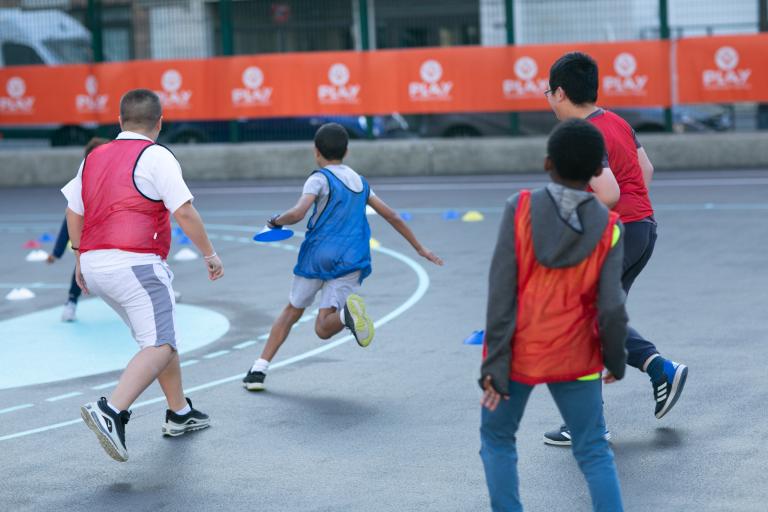 The renewal of support for the Drop de Béton and Play International associations, decided at the Board of Directors' meeting on 30 June, is in addition to the ongoing support for Terres En Mêlées and TIBU Morocco in Africa and for the associations Rebonds!, Boxer Inside Club, Le Grand Bleu, SOS Villages d'Enfants and Sport dans la Ville in France. Education and integration through sport definitely play a central role in the associations supported by the Societe Generale The Future is You Foundation.
"Sport, and rugby in particular, is part of the DNA of the Societe Generale group and we want to show that it can also be a means of re-engaging young people, to help them improve their personal development and look to the future – basically, to develop their potential – and that is the role of our foundation." confirms Mathilde Lerosier, deputy executive officer of The Future is You Foundation.
We want to convey the message that sport can have powerful educational virtues.

Mathilde Lerosier, deputy executive officer of The Future is You Foundation
The Foundation therefore shares the philosophy of the Play International association which considers that "sport is a source of solutions to our social challenges".
For these associations, sport is often just a pretext to connect with populations in precarious situations. This is the case for Drop de Béton, which presents "rugby as a mediation tool to offer a socially-responsible approach to engaging in sports by treating it as a formative educational tool." Taking rugby as the starting point, the association has therefore been able to implement a wide range of programmes to develop the employability of young people as well as to promote gender equality and facilitate the social integration of people with disabilities.
Play International also believes that sport is a powerful driver of social innovation. The association continues to develop a unique methodology, which it has named Playdagogy, to work on social issues in a playful and positive way. The association has also assumed its role as a laboratory of sport for education.
Both associations have been in great demand since the start of the pandemic and are rapidly expanding their actions. "With these two associations, we are really involved in the co-construction of programmes to better support young people," explains Mathilde Lerosier. "And some programmes are also designed for internal use. With Play International, we set up the internal sports and solidarity challenge #MoveForYouth in order to raise the profile of sport as a vehicle for inclusion with our employees and to support 50 associations in this context."
Education through sport in France and Africa
In total, the Societe Generale The Future is You Foundation supports nine partners who use sport as a means of promoting education or integration.
In Africa, this includes:
Terres En Mêlées: whose mission is to train future champions of sustainable development in Africa through playing rugby.
TIBU Morocco: which aims to increase the popularity of basketball as a collective sport promoting universal human values.
In France, support is provided to the following associations:
Rebonds!: which uses sport as a tool for education and social and professional integration for people in difficulty in the Occitanie Pyrénées Méditerranée region.
Boxer Inside Club: which presents itself as a new-generation boxing school which aims to create a path to success for each young person, working in particular on academic re-engagement.
Le Grand Bleu: which supports young people in difficulty in the city of Marseille, to enable them to re-engage (most of the beneficiaries are school drop-outs), to train for a trade that offers opportunities and to find their first job.
SOS Villages d'Enfants: which aims to take care of children without parental support or at risk of losing it, in France and around the world. Its PEPS ("fulfilment through sport") programme has enabled young people to strengthen themselves physically, socially and psychologically.
Sport dans la Ville: which works to promote the social and professional integration of young people from priority neighbourhoods, in particular through the running of sports centres at the foot of buildings.
The Foundation will continue to invest in this subject in particular, while being keen to play a "connector" role: the objective being to work with all these partners to create a healthy sense of collective competition, to take their messages and convictions even further.
Copyright photo : Play International