Contenu
"I came out with confidence. Confidence in myself, in my future". This is the kind of statement someone makes between smiles when they have been lucky enough to be supported by the Rêv'Elles association. For 29 young girls from the Lyon metropolitan area, the February holidays were synonymous with empowerment and gave them a chance to discover their potential.
In the heart of La Confluence, the new neighbourhood of Lyon, the girls have a meeting at the Orangerie, a brand new, eco-constructed building with a resolutely modern design. They are between 14 and 20 years old, come from modest backgrounds and do not know each other. They come from the four corners of the Lyon metropolitan area, both from the districts targeted as a priority by city policies and from Lyon's arrondissements, and they have all decided to follow the "Rêv'Elles Ton Potentiel" programme. This programme always starts during the school holidays in Ile de France and in Lyon, where the Rêv'Elles association opened a new branch only two years ago.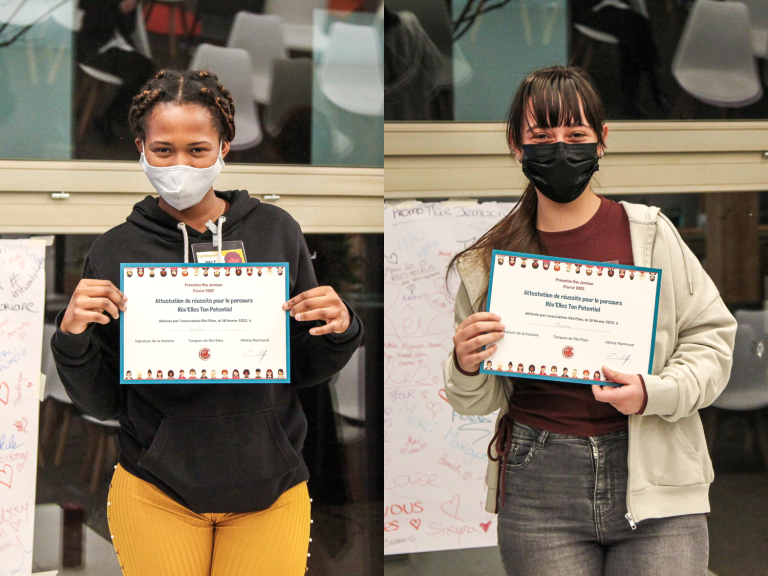 "The Rêv'Elles association fights for equal opportunities and promotes access to better career guidance for girls aged 14 to 20 from modest backgrounds", explains Audrey Rigaud, director of Rêv'Elles Lyon. She adds: "We have a five-month mentoring programme for classes of about 30 girls. They are coached collectively and individually every week to develop their potential, their knowledge of the world of work and their confidence. Every girl, regardless of her social background, must be able to dream, to choose and to take ownership of her own life, both personal and professional, with full knowledge of the facts". To inspire them, the last graduating class was named after an inspiring woman: Mae Jemison, engineer, doctor, professor and... the first African-American woman in space!
Empowerment
What a great way to dream during this week spent in a 100%-female bubble, in which listening and benevolence are key. The first day is devoted to self-knowledge, the second and third to exploring the field of possibilities, the fourth is spent at a company and finally the last day is dedicated to the presentation of their professional or personal project to a friendly audience of 30 role models. With their diverse backgrounds, these women are there to listen to the girls and pass on their experiences. "Our role models are all volunteers or seconded for their skills by the association's partner companies, and come from a wide variety of backgrounds", says Audrey Rigaud. They are teachers, engineers, sound designers, managers, HR directors... To welcome these role models before their pitch, the girls launched into the track "La Puissance" by rapper Rohff, like a modern haka: "The power as soon as I arrive, feel the rage of life, I breathe my time".
The girls are not the same at the end of the week as they are at the beginning. They have evolved, they have allowed themselves to dream without limits.
Chanel, 18 years old and full of energy, does not disagree: "At first, I thought I would only do one day. But this week has allowed me to overcome my hang-ups, to forge new friendships. It has confirmed my desire to work in the events industry". Following this extraordinary week of empowerment, participants will be supported collectively and individually for five months. The "Rêv'Elles Ton Potentiel" programme is the gateway to a large community formed by alumnae, coaches, the Rêv'Elles team and the role models. An opportunity to dream big and, above all, to make their dreams come true.
Copyright : Maude Chuzel