Contenu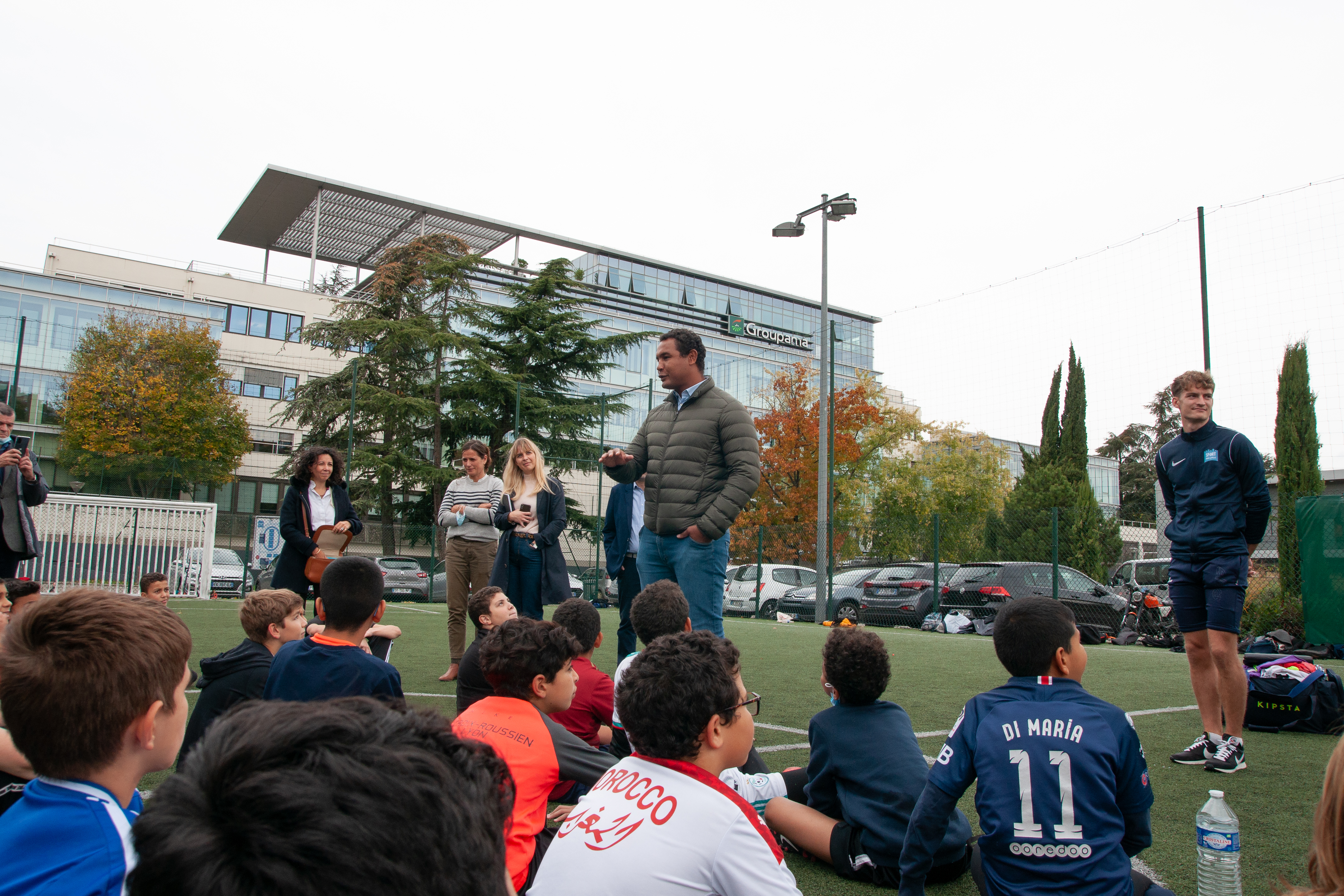 Thierry Dusautoir, Board member of the Societe Generale Foundation, meets the young charity's beneficiaries
Outside of Wednesdays, weekends and school holidays, all is calm at Sport dans la Ville. It is as if the site was on hiatus while waiting for the children to return to the basketball courts and football fields. This can be deceiving, because behind the scenes, another component of the unique charity is at work: Job dans la Ville ("Job in the City"). A programme that the Societe Generale The Future is You Foundation has supported since its launch.
SUPPORT FROM THE AGE OF 14, AND LONG TERM
"Job dans la Ville is a very unusual programme", states Jessica Noel, director of the Rhône-Alpes Job dans la Ville. Created in 2007, Job dans la Ville is a bit of an outlier in the professional integration. "It is a free programme, which will support young people from the age of 14 up to post-graduate level and beyond, in their future integration into the world of work. There are very few charities that do this and there are even fewer charities that will support young people long term", continues the director.
In these neighbourhoods, one in three young people have a level below BEP-CAP (technical school certificate-vocational training certificate). Job dans la Ville is divided into four paths for all young people from disadvantaged neighbourhoods: a discovery path: for all young people in school from aged 14 up to BAC to introduce them to the working world, an ambitious path: for all young people in higher education to give them every chance of success in their study path and to develop their employability, an employment path: to help young people to find their first job and finally, a decisive pass path: for all young people who have dropped out of school or are having difficulty integrating, by re-mobilising them in particular through sport.
Overall, we work on confidence. Our goal is that a young person can have confidence in himself, can have confidence in the world to give himself the means to succeed and make his dreams come true: it can, for example, be as diverse as becoming a baker or a financial director.

Jessica Noel, director of the regional branch in Rhône-Alpes in France (around the city of Lyon)
BUILD CONFIDENCE, MAKE AN IMPACT
"We are very much on the technical aspect of insertion orientation, but our strength is above all in coaching, in the tools that we will make available so that young people can have confidence in themselves, and know that they have value. They have a lot of preconceptions about the world of work. We want to change their outlook, get them out of a certain social determinism", insists Jessica Noel.
Job dans la Ville is a network of more than a hundred companies covering more than 500 professions. Societe Generale has opened its doors wide to welcome young people and introduce them to banking professions. "Societe Generale also supports us on a human level. It provides employees who will mentor young people. We have about fifteen in the Rhône-Alpes region", adds Jessica Noel.
The mentoring of young people is a real strength of Job dans la Ville. Some mentors will follow a young person for 7 years, see him evolve, enter the job market. And it works. Each year, more than 1,600 young people are supported by an integration manager and will remain so for an average of 3 years. 82% of the young people from Job dans la Ville are in training or in employment (compared to 64% at the QPV level), and 90% are optimistic about their future (compared to 74% at the national level).
"In 2020, we would like to support more young people, particularly in areas where we are not yet present and increase our qualitative impact. For example in Lyon, we have reached the maximum number of young people that we can support with the human resources allocated to us. We are obliged to select young people on their motivation. On the other hand, we want to support them even better, and improve our impact even more", concludes Jessica Noel. Across the country, nearly 7,000 young people benefit from Job dans la Ville.