Contenu
C'Possible was born out of an observation. François Vachey, at the time Vice-Chairman of the L'Oréal Group, was in contact with vocational high schools to organise apprenticeship and work-study contracts as part of his duties. He became aware that the students lacked knowledge of the business world, even though these establishments were supposed to promote faster professional integration for these young people. He then imagined C'Possible as a bridge between students and the business world.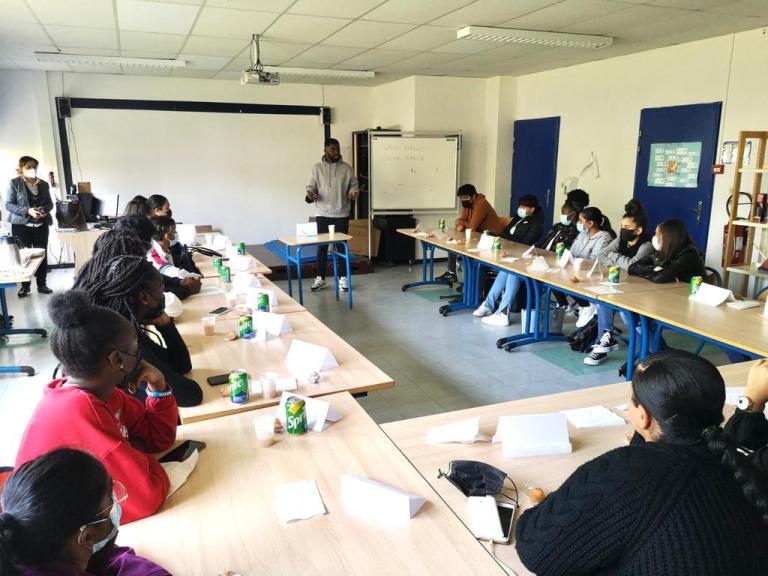 Emmanuelle Lartigue, national coordinator for C'Possible, says: "We often imagine that vocational high school is a wonderful world for young people who have a vocation. While this may be true in some cases, more than two thirds of vocational high schools offer very generic tertiary courses focused on training in commerce, sales and management. These paths are often considered dead ends for these young people who lack the prerequisites to enrol at a general or technological high school. This is far from the idea of a vocation." ).
It is these young people that C'Possible is focused on supporting, both collectively and individually, in four regions (soon to be five) throughout France.
A rapidly growing association
In the midst of a post-Covid period that has seen the dropout rate skyrocket (from 10% to 30% in some high schools), C'Possible sought the support of the Societe Generale The Future is You Corporate Foundation to further expand its action. "But more than just on the financial level, we appreciated that this partnership resonated with the Societe Generale teams, who were pragmatic and committed and wanted to implement concrete actions with us.
Within the framework of this partnership, skills sponsorship allows Societe Generale group employees to become involved in presenting their profession and career path to these young people, or to become mentors for them.
Insertion at two levels
Every year, 90,000 young people leave the school system without a diploma or training. "These are young people who will face major obstacles in finding a job and integrating into society," explains Emmanuelle Lartigue. The association's action is thus based on two closely linked objectives: first, to help these young people integrate professionally, and second, to help them better integrate into society.
It is very important to introduce young people in vocational schools to the business world, because most of them will look for work directly after graduating. But business is not a planet outside the solar system. The codes and values of companies are part of society.

Emmanuelle Lartigue, national coordinator for C'Possible
C'possible thus focuses many resources on cultural actions or on education around notions such as citizenship or living together. This can be achieved by organising walks to help the participants discover their own city. "It is important to know that these young people tend not to leave their own neighbourhoods. They don't feel they have permission to go and discover their city," said the national coordinator of C'Possible.
A tour from the Hôtel de Ville to the Louvre will therefore be an opportunity to talk about architecture, history, and culture as well as citizenship.The volunteers trained to run these events come from a wide range of socio-professional backgrounds: in addition to business professionals, there are journalists, philosophy professors, lawyers, etc., who come to reflect with the young people on themes related to citizenship, self-confidence, and the value of work or of money.
C'Possible's pedagogy is thus based on this diversity of paths and on interactivity, exchange, questions, role-playing and training in real-life professional situations.
Copyright photo : association C'Possible