Contenu
Marie* at 8 years old. She has attention deficit hyperactivity disorder and going back to school has always been a struggle. After the holidays, her teacher always witnessed a violent backlash and saw how difficult it was for her to get back into the rhythm of school life. Last year, her parents found out about Ateliers Amasco and decided to enrol her for the summer holidays.
"It was much easier for her", says Marie's mother. "Her teacher did not have any particular difficulties as in other years."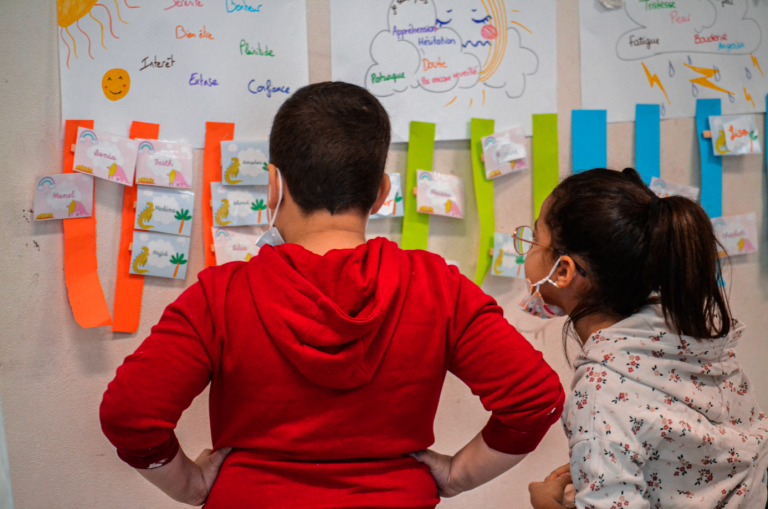 Amasco's mission
Since its creation in 2018, the association has been working to enable children, whatever their difficulties, to develop and maintain the pleasure of learning while having fun. Its mission has always been to address the growing inequality of opportunity among children during the holidays. The aim is to ensure educational continuity for all and to make the holidays an enjoyable time for the children, while nurturing their curiosity and fostering their learning.
With an average of one facilitator for every five children, the workshops offer children quality support and can also accommodate children with disabilities or attention deficit disorders. This is what makes all the difference for Suwathi, a teacher who decided to devote her holiday to supervising Amasco workshops as a site manager. "This framework really allows children to create strong links between each other and to benefit from a personalised follow-up from activity facilitators".
A school teacher in Seine-Saint-Denis for the past three years and a leisure centre facilitator for ten years, Suwathi decided to apply to the association to manage a team of facilitators during the holidays. This has had a very positive impact on her teaching practices for the rest of the year. "I have focused my work on concepts such as solidarity, autonomy and sharing", she says with a smile. "I used to do it before, but I gained a lot of experience with Amasco. It teaches us a lot".
Amasco provided a transition between fun, play and the educational framework of school. It was invaluable!

Marie's mother, one of the young participant of the Amasco Workshops
A complement to school
For Madeleine, project manager at Amasco, "we are both allied and complementary to National Education". Taking place over holiday periods, the association's activities have an undeniable impact on the pupils' academic performance. "We offer them activities that develop their taste for learning, their self-confidence or that open them up culturally to others". The goal is also to show that there are other ways of being and doing than those at school, which can create that little spark that will allow the child to develop over the long term. "We really want to develop skills other than purely academic ones, and that will ultimately be useful in life and at school".
Supported by the Societe Generale Corporate Foundation C'est vous l'avenir, the association already offers its workshops in the Île-de-France, Auvergne-Rhône-Alpes and Grand-Est regions and, recently, in digital format. Over the winter holidays, more than 600 children were welcomed by Ateliers Amasco around two topics: "Discovering cultures" and "A journey through time".
*Her name has been changed for reasons of anonymity.