Contenu
ACTE J brings together young professional singers from three countries: France, Germany, and Switzerland. This trinational choir academy of excellence aims to facilitate the first steps of young musicians in their European, international professional careers. Interview with Léo Warynski, the director of Les Métaboles.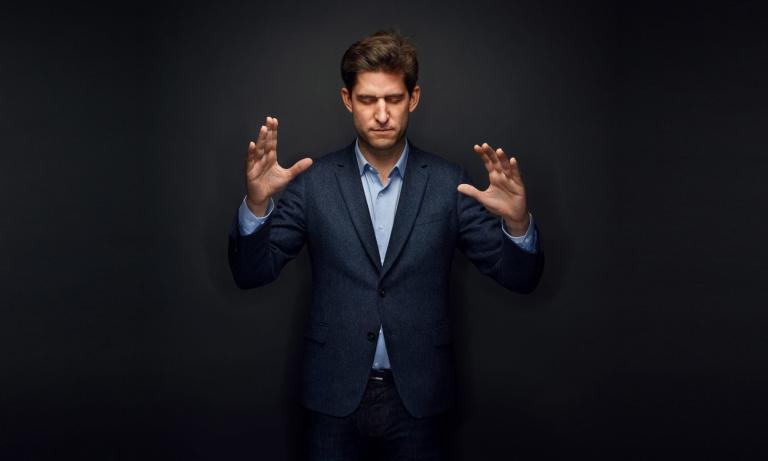 Why bring together young singers from three different countries?
The idea of ACTE J is transmission and building bridges. This academy is for young singers and choirmasters that are professionals or in professionalisation. The concept is to bring together the forces of three different structures: the Vokalakademie Berlin in Germany, Les Métaboles in France, and the Basler Madrigalisten in Switzerland. They work in the same, common cross-border geographical area. Les Métaboles are supported by the Grand-Est region. This youth academy – its "J" recalls "Jeune" in French and "Jung" in German, which both mean "Young" – is carried in France by Cadence, which was previously named Mission Voix Alsace. All the protagonists of this project want to support high-level amateurs and the professional beginnings of young artists.
Circulation means healthy competition
Is the circulation of young artists complicated in Europe?
At the end of the day, yes! The professional networks don't, or hardly ever connect from one country to the other. Very few German choirs enter the French network and vice-versa. First, for a reason of legal status: a professional choir isn't the same thing in Germany and in France, because there is a specific status for temporary show business workers in France that doesn't exist in Germany nor in Switzerland. In these countries, the professional choirs are permanent ensembles. In France, the system of "intermittence", where the state supports show business workers between contracts, allows singers to work in several choirs at the same time. The dynamics are not the same.
How did this first edition go?
Concretely, there were three concerts of this ephemeral cross-border choir on the 20th and 21st of November. They took place in the three countries, in Freiburg in Germany, Basel in Switzerland, and Guebwiller in Alsace, France. We chose works in French, by Claude Debussy, Maurice Ravel, and Francis Poulenc, and in German, with scores by Johannes Brahms. Circulation means healthy competition. During those shared moments during rehearsals and concerts, we could most of all share different visions of our profession.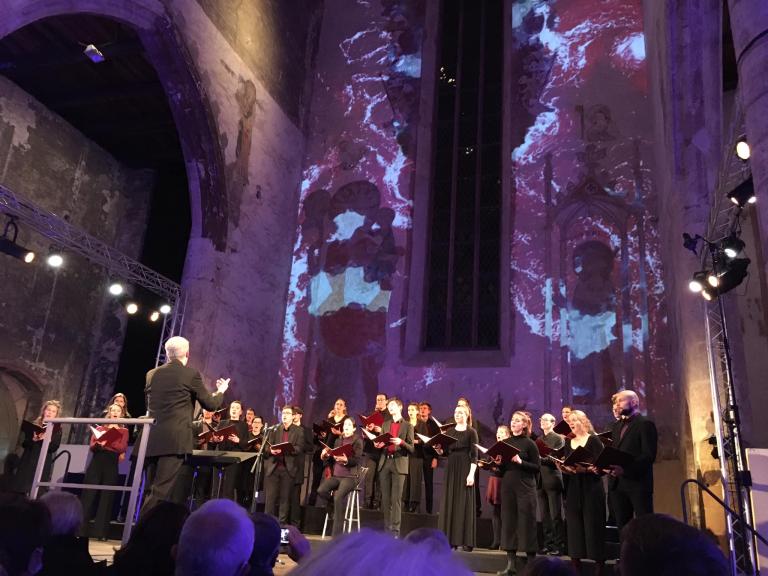 What are these professional differences?
First, there is the knowledge of the subtleties of a language. For instance, we sung "Yver, vous n'est qu'un vilain", a medieval-inspired song composed by Claude Debussy in 1909. French people understand what is implicit, almost parodic in the text, and find the right intonation. On the other hand, for a Brahms melody, a German singer will naturally find the right phrasing (rhythmic rendering) and can pass it on to a French colleague. As a choirmaster who is lucky enough to work in several countries, I notice these peculiarities. German and English people focus the energy on consonants. I can understand right away if someone is in love or angry from their accent on the consonants! French people, who have a "flatter" language, express emotions through other parameters, the intensity of the sound, for instance. Swiss singers, who have an extraordinary vocal culture, establish a connection… just like in politics! Getting these differences to work together is a true lesson in listening and sharing, and a precious competence as well. The intent of the project is deeply Europhile.
What were the obstacles that you had to overcome?
Language, slightly, but also the functioning of the ensembles: the planning of rehearsals, the management of administrative issues, and the requests for grant vary from a country to another. We chose an intense rhythm, the rhythm of a professional concert or tour. It was important that the young academicians face this reality: in September and October, they had two weekends of rehearsal beforehand in their respective countries, then two days to set up the program before the concerts. It was very brief. They had to get into a certain energy to follow the pace and rhythm of professionals. It was a beautiful challenge for young singers.
What did the singers of Les Métaboles think about the experience?
I can pass on the record of Marco, one of our tenors. He has been pleasantly surprised by its musical quality. Marco hasn't been a professional for long: he knows what is at stake when you want to sing for a living. He could feel the involvement of the young people, the warmth of the atmosphere. This kind of experience brings a lot to everybody: to be around amateurs who are very involved boosts professionals. They remind us why we chose this job in the first place. These encounters feed enthusiasm.
Can we draw a parallel with Playing For Philharmonie, of which you've been choirmaster for years?
Playing for Philharmonie has the same goal of bringing together professionals and amateurs. Even if there are no professional stakes for the participants who work for Societe Generale Group, the concept of working in stages is the same. The employees who sing work in "partielles" (small teams) every two weeks, then in "tutti" (together) once a month. I could even find another link between ACTE J and Playing for Philharmonie: they both have an international dimension, because my role is to coordinate the project on an international scale. I'm for instance going to Ivory Coast and to Russia to work with the choristers so they are ready for the final push in Paris. I go there to work on the musical vision because during the rehearsals with François-Xavier Roth, everything goes very fast! We were very sad that we couldn't get together for the previous edition. I hope that in 2022, we can finally all meet again.