Contenu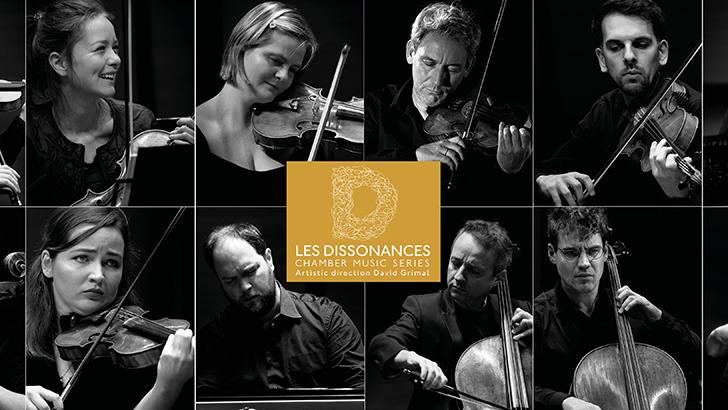 A few days after learning of the cancellation of the Les Dissonances tour scheduled for the month of January, David Grimal decided to plan a chamber music event with the help of Jean-François Driant, director of the Volcan du Havre.
After Dijon in June 2020, this is the second edition of Les Dissonances Chamber Music Series, designed as a new kind of festival where international musicians, young musicians and students come together around the values held by the Les Dissonances ensemble for over fifteen years: artistic excellence, transmission and sharing. This time, David Grimal invited Marc Coppey, one of the great French cellists and an internationally recognized teacher; the magnificent cellist Victor Julien-Laferrière; the exceptional musician Yan Levionnois, a longtime friend of Les Dissonances; two young virtuosic and profoundly talented pianists, Jonas Vitaud and Sélim Mazari; Léa Hennino, Vladimir Percevic and Mathis Rochat, three heroes of the young generation of violists; and the all too rarely heard Solenne Païdassi, outstanding French violinist and winner of the Thibaud competition. They kindly welcomed two students from Saarbrücken, where David Grimal is a teacher: Stefan Simonca-Oprita and Maria Marica, two already great talents.
To fight against the cold and the mists of January, David Grimal designed this second edition around the warmth and the deep humanity of Brahms' chamber music masterpieces, which inspired those of Anton Bruckner, Gustav Mahler, Clara Schumann, Robert Schumann and Arnold Schoenberg.
The whole program can be found here: https://bit.ly/2MLs3Wn
Diffusion of a selection of works on France Musique - The 8 p.m. concert - Monday 8 February - Le Volcan - Scène Nationale du Havre, January 2021 - David Grimal, artistic director https://www.francemusique.fr/emissions/le-concert-de-20h/bartok-et-la-galaxie-mendelssohn-par-le-quatuor-van-kuijk-91735
Broadcast every Friday at 8 p.m. from 12 February to 12 March on the website of the ensemble Les Dissonances: www.les-dissonances.eu