Contenu
Eligibility criteria
To be admissible, the project must be supported by a public interest organisation that has existed for at least one year in accounting terms and must meet five conditions:
- Compatibility: the initiative corresponds to the scopes of the Societe Generale Foundation as detailed below
- Public: the people supported are primarily young people experiencing economic and/or socio-cultural hardship
- Geography: the project is located in France or on the African continent, in a country where the Société Générale Group operates.
- Budget: the project is co-funded by public or private partners and the amount requested does not exceed 30% of the project budget. For organisations whose project merges with the corporate purpose, the budget communicated is that of the organisation
- Impact: the project addresses a social issue. The objectives set are concrete and the results measurable
Find out if you are eligible for a financial support
To find out if your project is eligible for a financial support from Societe Generale The Future is You Foundation, please fill in this questionnaire. You will then be able to access the online support request form.
Selection criteria
Societe Generale The Future Is You Foundation primarily helps young people realise their potential through projects relating to their education and professional integration.
More concretely, this involves projects that promote:
- The consolidation of fundamental knowledge
- Academic perseverance and success
- The fight to help young people stay in school
- The development of innovative educational methods
- Education and professional integration through sport and music
- The capacity to coexist
- School guidance and exposure to the professional environment
- "Soft skills" and professional conduct
- Professional training particularly in jobs of tomorrow
- Access and support to one's first job
- Support for entrepreneurship, in particular promoting impact projects
Make your project stand out! Special attention will be paid to projects that are:
- Drivers of lasting change for beneficiaries
- Socially innovative
- Able to be duplicated
- Based on a coalition of multiple stakeholders
Duration of the support:
- We support for one year: new projects, projects of an experimental nature or projects carried out by new structures.
- We support for a period of 3 years: projects in the framework of a partnership renewal

Societe Generale Foundation does not fund:
- One-off projects or events
- Personal projects
- Projects run by a religious, denominational or political organisation
Submit your application
Within its "Education & Integration" scope, Societe Generale Foundation organises several calls for projects every year for France and the African continent.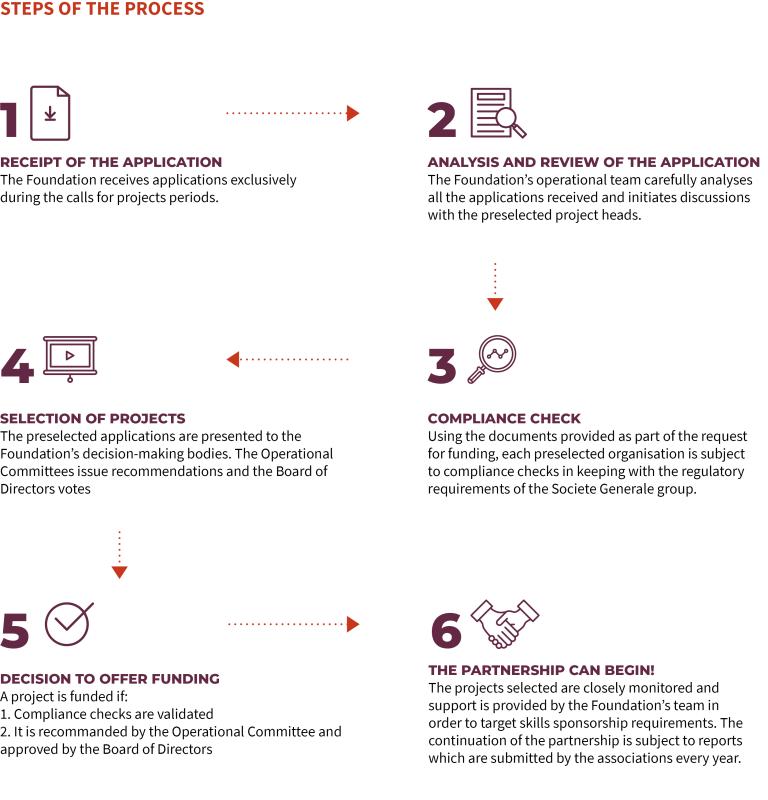 Form
Are you eligible for financial support from Societe Generale The Future is You Foundation ?