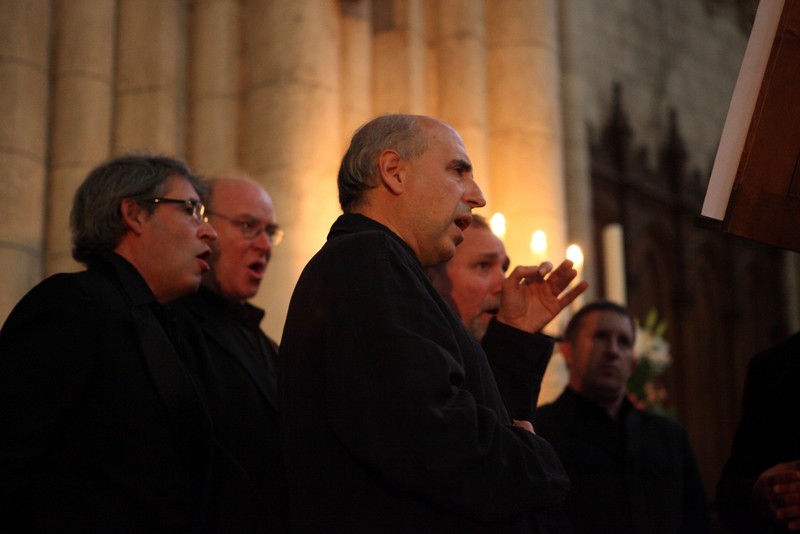 Musicologist, singer and composer Marcel Pérès founded Ensemble Organum in 1982. Based on the premise that nearly 98% of music performed is focused on the last three centuries, the ensemble seeks to restore the heritage of early music. After having flourished at the Abbaye de Royaumont within the Centre Européen d'Interprétation des Musiques Médiévales (1984-1999), Organum moved to the former Abbey of Moissac where Marcel Pérès created a new research structure: the Centre Itinérant de Recherche sur les Musiques Anciennes (Itinerant Centre for Research into Early Music- CIRMA). The objectives are to explore medieval manuscripts, to develop the ritual of the concert by imagining other ways of being in contact with the public and to pass on ancient teaching through traditional structures. For 38 years, Ensemble Organum has gained international recognition by networking its activities with other centres working in the same interest. In 2014, Organum received an honorary award from the Axion Estin Foundation in New York for its research into the origins of Byzantine and Roman chant.
Today, Ensemble Organum is responsible for more than 30 mediation activities deployed on a national level. In 2021, the musicians are planning to release an album entitled "Samaa-Mozarabe". This programme brings together Moroccan Samaa and 15th century Mozarabic chant. These two repertoires, which coexisted in the Iberian Peninsula throughout the Middle Ages, have many musical and spiritual similarities. The record is the fruit of work began by the ensemble in... 1997.
We have been supporting Ensemble Organum since 2021.